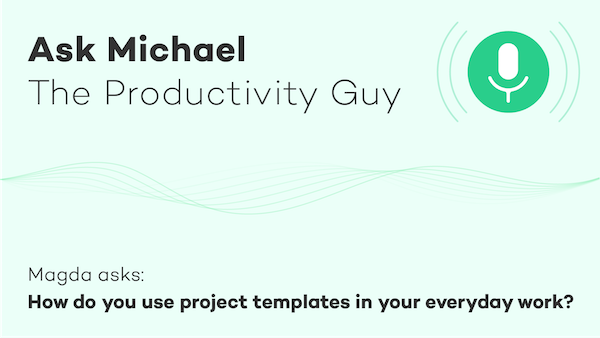 Templates are a no-brainer in time management. Let's discover why!
Project templates are one of the core features of Nozbe. Still underestimated by users. If you know the power of a template in general, you understand how it can improve your recurring actions.
From packing to a training plan, templates are always ready to use, save your time and assure you don't miss anything important.
With Nozbe.how (a feature that allows you to share your project template with others) you don't even need to make your own templates – one click and the shared template lands in your Nozbe as a new project.
How does Michael use project templates? Watch now!
How do you use this feature? Leave a comment below!
Please subscribe to our YouTube channel or podcast feed to be notified about new episodes.
Related resources:
"Ask Michael - the Productivity Guy" is a weekly series of short videos with Michael. We gathered dozens of questions from users, then we chose the best of them. Now Michael is answering them every Monday.