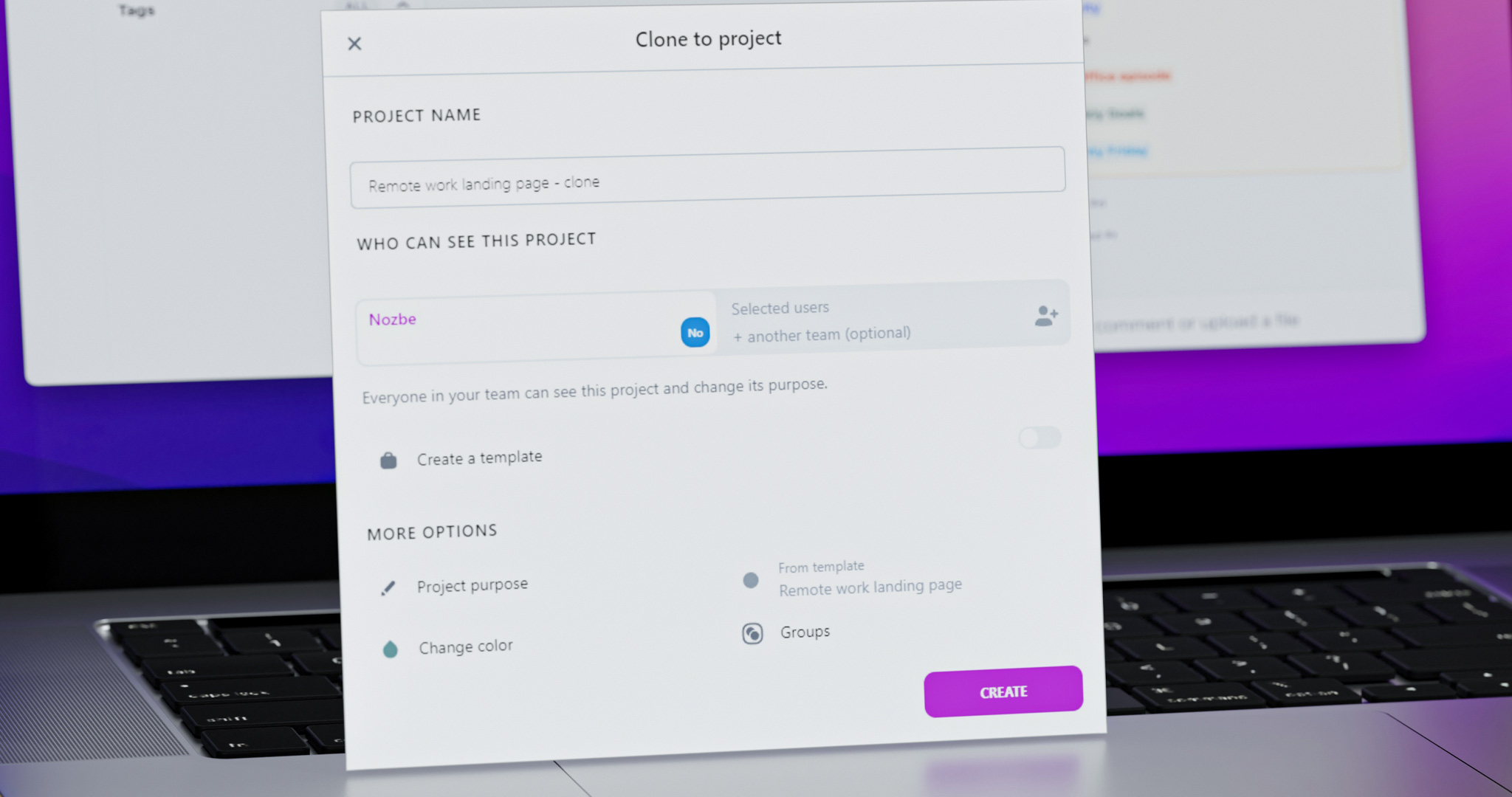 One of the secrets to productivity is process automation. It sounds a bit like corporate lingo, but it's worth taking a look at. See how cloning projects in Nozbe helps you save time and streamline your workflow.
Why would you automate processes
Every day, we perform a lot of activities that don't necessarily hit the peaks of creativity, but are necessary to carry out tasks and push important projects forward. If we add up the time we spend on these little things, we would be surprised 😱
The good news is that you can look for ways to have these things done "automagically". Thus, whenever you are doing something that you have already done before, think whether it could be automated in any way.
The authors of Kaizen concept figured it out a long time ago and wrote it down, adding a lot of philosophy and dogmatism to it. They believe that by regularly improving all aspects of the company's operations, you can, for example:
reduce costs,
improve working conditions,
shorten the time of task completion and boost the quality of work.
Kaizen is then about motivating employees at all levels to have the think-mode on at every stage of their work and to constantly look for room for improvement.
(👉 If you want, you can listen to our NoOffice podcast episode on how we implement Kaizen at Nozbe)
How to save time when planning your next project in Nozbe
Any major thing you want to work on - on your own or with a team - should be organized in a project in a project & task management app, eg. in Nozbe. You first create a project and then - populate it with tasks that are the steps that need to be taken to complete it.
You can add sections to organize your work and break it down into stages. To communicate and clarify stuff add comments and due dates to tasks, and assign these tasks to people who will do them best.
And then, after some time you might realize that there is a very similar project you need to take care of or the client or campaign requires similar set of actions.
All you want to do in that case is to get back to the initial project, enter its menu (the 3 dots icon at the top of the view) and choose the "Clone" option.
A window with numerous options will show up:
What can you do while cloning a project in Nozbe
Project name
By duplicating a project, you create a new item on your project list. It is worth changing the name of the project, or at least adding a word or a number to avoid mix-ups.
A team
You can clone a project and move it to another team of yours (if you have more than one of them) right away. At this stage you need to choose where your new project will be saved.
Access to your new project
While cloning a project, you need to decide who will have access to it - your whole team or just selected users? Or maybe you want to keep it private - just for yourself? Note that the limited access projects are only available to Nozbe Premium users](https://nozbe.com/free).
Do you want to create a template?
When creating a clone of a project, you can decide immediately whether you want the newly created project to serve as a template for similar projects in the future.
Extra options
👉 Project purpose - at this stage you can specify or just modify your new project's purpose.
👉 Color - if needed you can also change the clone's color so that it is not identical as the initial project's one.
👉 Info about the origin-project of your "clone".
👉 Groups - if you want, you can also assign your new project to an existing project group or create a new group to which you will add other related projects.
Now you just need to approve with the "Create" button and that's it!
Don't waste any more of your time creating projects that have already been elaborated once. Use the cloning feature and save precious minutes.
In this post, we also show how project templates work in Nozbe. This feature is like cloning but it applies to regularly repeated projects.