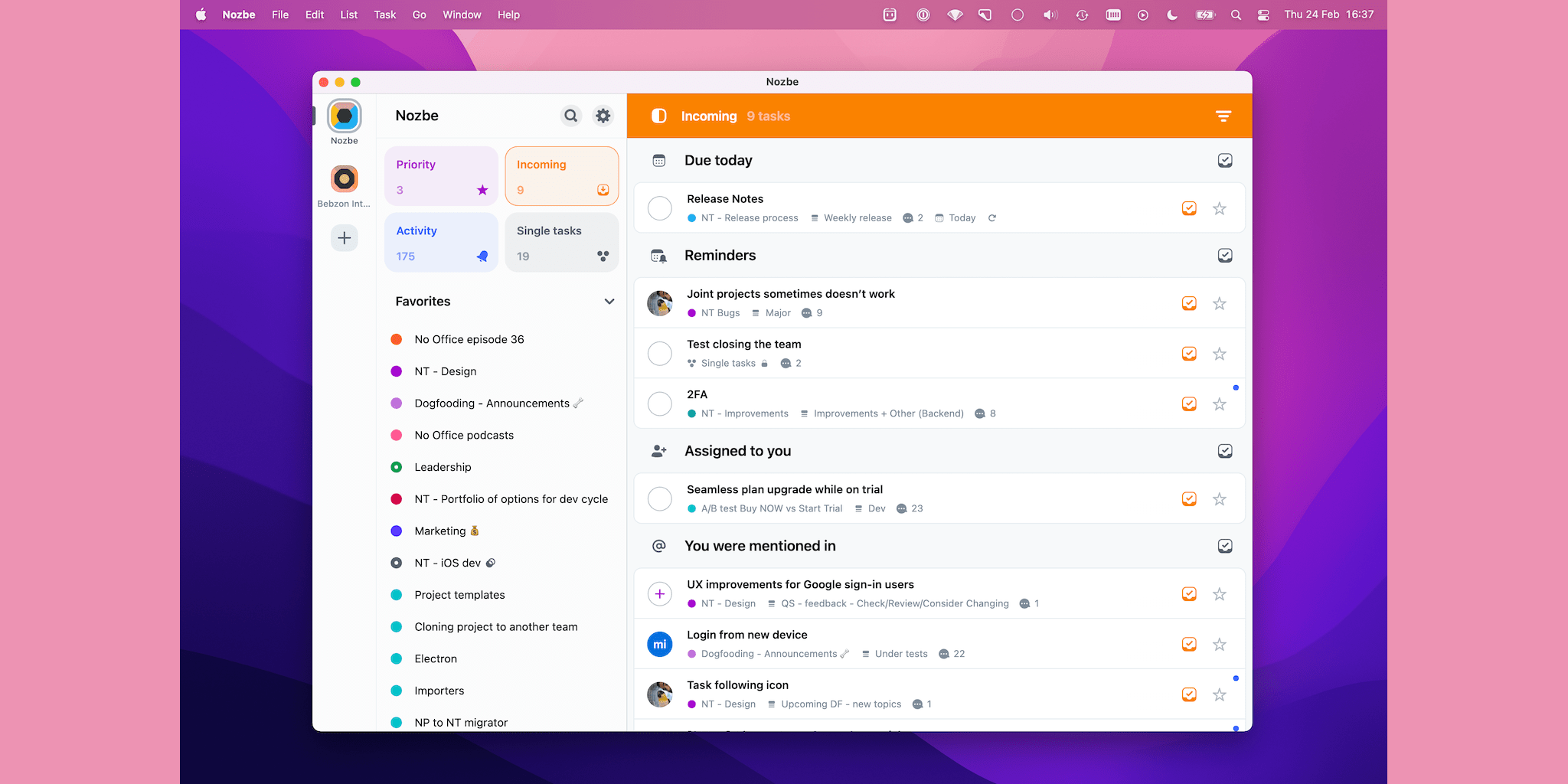 See how to get reminded, informed, and updated about your tasks in Nozbe. Check out the magic of the Incoming view and have Nozbe do and remember things for you.
Why do you use project management tools, to-do lists, and productivity apps? I guess the main reason is to have a trusted system where everything is evenly arranged, to know where to find stuff, and to ensure that nothing falls through the cracks?
We can add a few more benefits: time savings, the possibility to automate your work, and plan your workload in daily, weekly, and monthly time frames.
Nozbe was designed to meet all these requirements, and one of the main features that make it possible is the Incoming view.
What is the Incoming view
You will find it among the 4 quadrants at the top of the left-hand panel. Incoming is the place where all the things that require your attention go.
It is to serve a bit as if you had an automated private assistant in Nozbe who will ping you about overdue tasks and remind you about the upcoming commitments.
The Incoming view works the best when you add due dates to your tasks and use the reminders to remember about things that need to be taken care off before the due date.
Let's say it is April, and you must submit an article or assignment by May 16th. You need to start writing on May 2nd in order not to be late. For this reason - you set the task due date for May 16th and the reminder for May 2nd to have 2 weeks for doing the actual job.
It is very important that you know that you can add your own reminders to the tasks that are assigned to other people on your team. Do it, for example, when you want to monitor how things are progressing in a given task.
How the Incoming view works
Incoming then serves as your personal assistant or a notification center in Nozbe. The tasks in your Incoming view are ordered in sections:
Due Today - All your tasks with the due date set for today will land here. You need to review these things and decide whether you want to do them now, postpone them, add a comment and continue working on them…
Overdue - The overdue tasks will appear in this section. If you are lucky 😎 and don't have any, you won't see this section in your Incoming.
Reminders - This section will display all the tasks with your "Reminder" parameter set for today.
Assigned to You - You will see this section only if you work with a team. Tasks that are assigned to you by other users and that are your responsibility.
You were mentioned in - No comment needed :)​Here you can see all the tasks where someone mentioned you with your @username - it also appears only providing you are a part of a team in Nozbe.
Now it's up to you to decide what to do with them. Remember - the task will stay in the Incoming view until you manually review it - using the orange button on the right…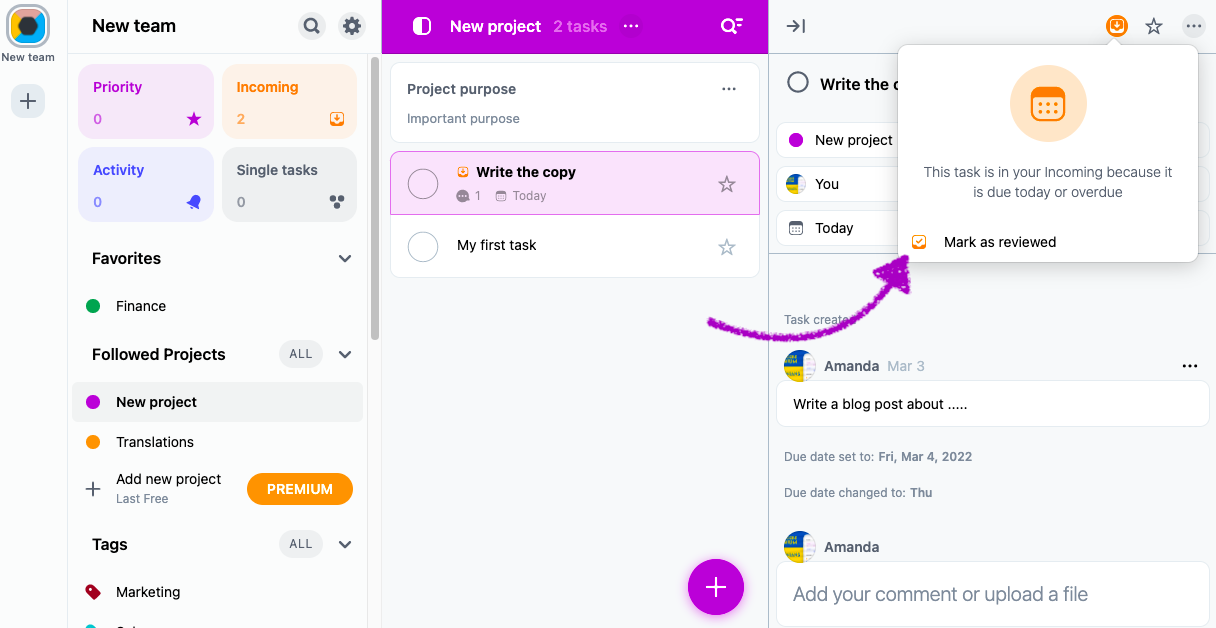 …or simply write a comment or change something in its parameters.
Remember that Incoming isn't a place to store your tasks. Make sure to review it regularly and process tasks that you see there. Keeping this view tidy will help you achieve ultimate efficiency!
Incoming view for teamwork
We've already explained a bit about this topic - Incoming is a little more dynamic when you work with other people in Nozbe. The mechanism has more possibilities as it informs you about other people's moves: assigning a task to you, @mentioning you or the whole @group in a comment, etc.
The task will appear in your Incoming view whenever your teammates need your help or feedback and the other way round. Whenever you need your colleague to answer your question or assist you with a task - @mention them in a comment, and this task will instantly appear in their Incoming view. No one will miss your assignments because the task you delegate to another person goes straight to their Incoming.
There is one condition it will all work, though. Everyone must review their Incoming regularly. This needs to be a common habit in your team! Otherwise, your collaboration and the information flow in Nozbe will fail.
Incoming view for single users
As Nozbe is also an excellent tool for freelancers, solopreneurs, and single users who simply want to get organized, the Incoming view can be easily used in teams of one.
In this case, you won't see the Assigned to You and You were mentioned in sections in your Incoming. You will still be able to use it as your notification center for tasks with dates and reminders. It is crucial you add dates to your tasks, though - otherwise, the mechanism won't function.
Whenever you have any overdue tasks or commitments with the deadline set for today - you will see these tasks in your Incoming. This way every morning you have a plan for a day almost ready with a set of tasks to get done.
How to process the tasks in the Incoming view
You should review the tasks in your Incoming one by one and decide what to do with each of them.
✓ If something is a simple thing to do - just do it and mark it as done.
⭐️ You might want to move the important tasks that you want to focus on soon to your Priorities - this way, they will be marked as Reviewed and will soon disappear from the Incoming.
🗣 You can add a comment to a task that isn't so important to land on your Priority list but can't be completed either, because you are still workin on it. The comment should include information on what has been done and what's missing. You want to note down the progress - for yourself or other team members. Once you add a comment, the task will be marked as Reviewed.
❤️ Another idea is just to add a reaction. At Nozbe, we usually add reactions to the tasks where people mention us, mention @all (meaning everyone on the team - usually to announce something and make sure everyone gets the notification) or mention the whole group of users. Adding a reaction makes the task marked as Reviewed too.
Summary
Now, you know everything about how the Incoming view in Nozbe can help you remember things, plan your work, and never miss a deadline.
However, the idea of the Incoming view only works if you and your team check it regularly and treat it as your control center in Nozbe.
If you have any questions, please, write a comment below or email our friendly customer support at support@nozbe.com.