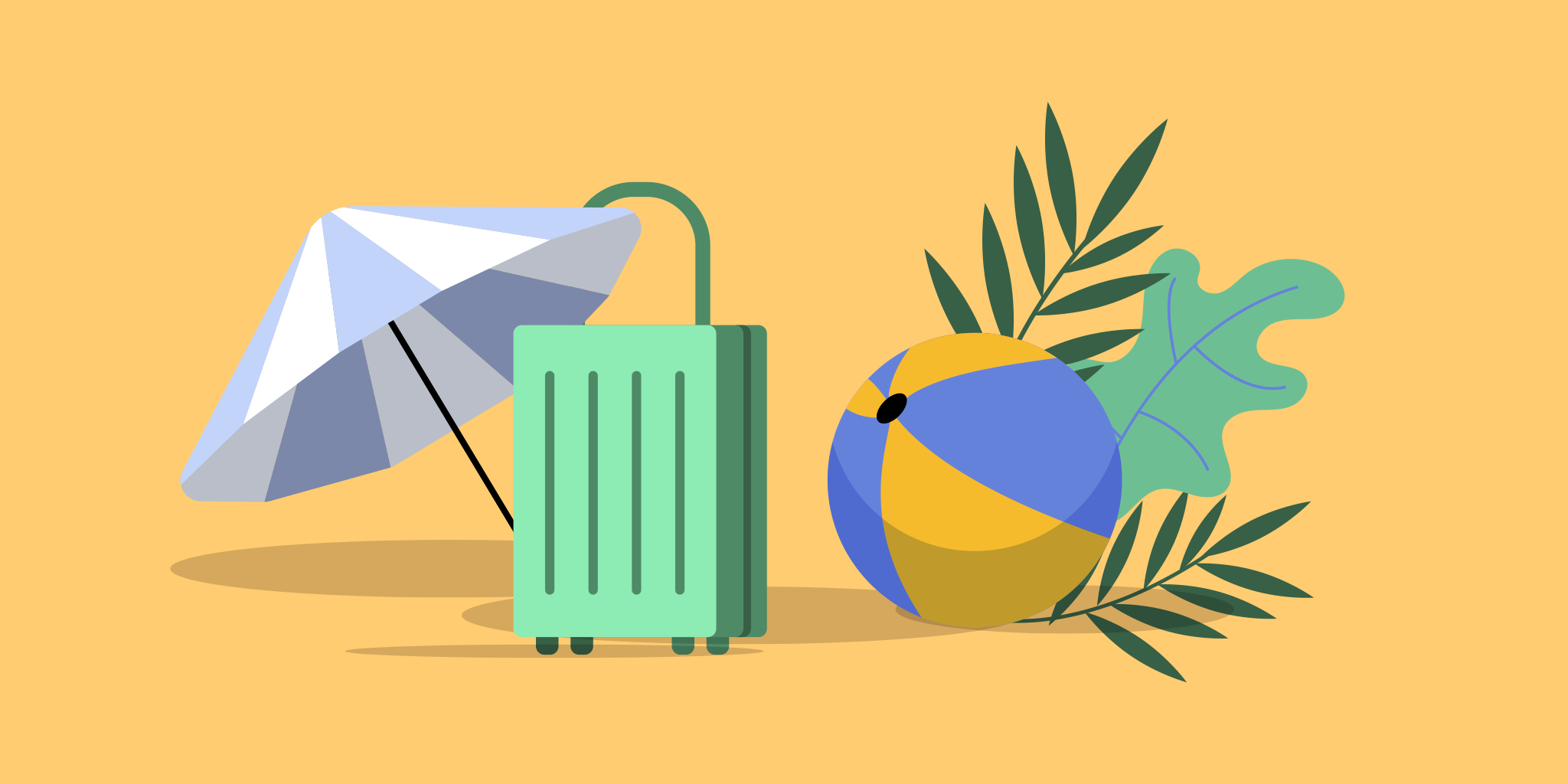 One of the things I enjoy most about running my own business is the fact that I can make my own work rules, along with my team. Together, we can build our "perfect world." If you've been following Nozbe, then you may already be familiar with some aspects of our company's approach to work: working with the latest technology; remote work ("#NoOffice" – we don't have a physical office employees must go to); working only four days a week, where Fridays are a time scheduled for weekly reviews and personal development (dubbed "TGIF", as in "Thank God it's Friday"); and our constant experimentation with new ideas.
Yet, I have a problem: as a business owner, I think about the company all the time. I just can't stop. Even when I'm on vacation with my family, I continue thinking about the company, its future and growth, the team… and I can't turn it off!
That's why, this year I decided to try something new and, for me, totally crazy. I decided to take a "sabbatical," i.e., a long, six-week vacation.
Why did I take six weeks off from work?
Since I began Nozbe back in 2007, I haven't taken any long breaks from work. Sometimes I managed to take a week off and keep my mind off the company, yet most of the time, I found myself still checking work things in the evenings to find out what was happening; I wasn't able to mentally detach myself from my work.
What's more, I saw the same thing happening with my co-workers. To change this, a few years ago we introduced a two-week vacation requirement for all employees. Before that, people used to take two or three days off from work from time to time, but that didn't allow them to truly relax and disconnect from work. Therefore, we implemented a policy enforcing mandatory two-week holidays to enable everyone to effectively distance themselves from work.
It can be difficult, but after taking a longer break, you will want to go back to work. You'll feel reenergized and full of new ideas, and it will help you gain perspective on some decisions, and that's a healthy way to work.
So now the employees have their holidays. But if the boss keeps thinking about work, then it's still not a healthy situation. Inspired by my "guru," Michael Hyatt, I started to seriously consider how I could take some real time off of work, and I also wanted to ensure that the company could run smoothly without me in case I need to take a break.
Another reason to give it a shot was that last year my parents celebrated their 40th wedding anniversary. As a gift, my wife and I got them a voucher for flight tickets to New York. They said that they'd love to go, but on one condition: that we come along! And that's how we ended up going to New York as a group of seven: my parents, me, my wife, and our three daughters (Milena, 9 years old; Emilia, 6 years old; and Liliana, 2 years old).
So, 11 years after starting Nozbe, I was preparing to take more than a month off of work… More than a month! Not two weeks. Not three. But, including travel time, six business weeks! That's crazy!
But on second thought… why not? The company is doing great. The individual directors are responsible for their areas and teams: product, technology, development, customer support and financial matters. I decided that it was about time for me to get some distance and stop thinking about work 24/7!
Now, I'm writing these words from a small cabin on the Muskoka River in Canada, and I still have two weeks of vacation left, which is awesome.
How do you prepare for a longer break from work?
First of all, the weeks leading up to the trip were pretty hectic. There was a lot of work to be done. During my time off, half of the company employees were also scheduled to be away on holiday, and I was working more than usual to prepare the marketing plan and make plans for the upcoming months!
This was something completely new for me, and it gave me the opportunity to learn some new things. I tend to act on impulse, and even though I think long-term, I rarely make plans several weeks ahead of schedule. This time, knowing I'd be away for several weeks, I had to make plans for the next couple months!
And it turned out that long-term planning works much better for me and is more effective, as it gave me time to outsource various preparations to the rest of the team! Amazing, right?
As a result, despite the heavy workload, everything ran smoothly during this vacation period. I prepared the company for my absence – and beyond! In fact, I've outlined my plans until almost the end of the year!
What did our trip schedule look like?
We planned the entire trip in advance. We decided where we wanted to go and what we wanted to do. I booked the flights to the U.S. and back, as well as our first accommodation in New York. I left the rest of the planning for vacation time.
What's important is that we agreed on what we wanted to see and what our capacity would be in advance – my parents are in their 60s, and I have small kids that can get bored easily with certain things.
The plan was that we were going to spend the first week in New York and later rent a minivan to head up to Canada (where we are right now). On our way back, we're making a stop at Niagara Falls, and from there, we're heading to New York to catch our flight back home. At least, that's the plan.
How did the trip come to fruition?
There were certainly a lot of factors to consider when planning this trip. We had to plan according to our needs, and there were a few different ways this was done.
First of all, I relied on Apple Pay. I added all of my cards to Apple Pay, and because I have a U.S. currency credit card, I tried to pay for everything in dollars to avoid expensive currency exchange fees.
However, the problem with Apple Pay is that it doesn't work too well in the United States. Very often, it doesn't recognize or accept my Polish credit card, so I have to pay "the traditional way," using a physical payment card.
Secondly, the best way to book attraction tickets is to do so online, especially if you're planning to visit New York. Thanks to avoiding attraction queues, we were able to save a lot of time. It was sufficient to book the tickets a few moments earlier – on the iPad or iPhone in our rented apartment!
Thirdly, it is important to consider accommodation. We booked our accommodations either through Airbnb or Booking.com. For a family of seven like ours, it's much easier to rent an entire apartment through Airbnb than to book two separate hotel rooms via Booking.com. Sometimes, however, we simply had no choice. Therefore, having both of these apps installed on our iPads and iPhones proved essential. So far, we're really pleased with our choices, which have included: a nice apartment in New York, a traditional American house with a porch and a rocking chair in a small town in the Hudson Valley, a beautiful tenement flat in Montreal, and a lake cabin, from which I'm writing these words … Airbnb made our trip much more interesting. Right now, we need to find an apartment in Toronto and later somewhere in the Niagara Falls area.
When we needed a place to stopover for the night on the way from point A to point B, Booking.com proved to be the easiest way to find accommodation.
Fourthly, to accommodate our seven-person group and baggage, we rented a Dodge Grand Caravan minivan from Alamo, as it's one of the few companies offering Collision Damage Waiver (CDW) insurance in the price of the vehicle. In case something happens to the car, it won't be my problem.
And lastly, internet access was an important consideration. To make sure I had access to the internet in both the U.S. and Canada, I purchased a 2 GB GigSky plan ("Apple Sim") directly from my iPad. I also set up a personal hotspot on the iPad to which I connected my iPhone. Besides that, most places we've stayed at so far had free Wi-Fi, not to mention there's public Wi-Fi at almost every Starbucks or Apple Store, giving me plenty of ways to stay in touch with the world.
Four weeks in, how's my six-week vacation?
So far, so good. I've been able to completely "switch off" from work. My sole focus is my family and the place we're currently exploring. The only exception is this article, which was written in a cabin on a Canadian lake after everyone went to bed.
I admit that I still think about work, but more in the long term – for example, how we should do things in the future, how to make the business grow, in which direction should we develop, where I see myself in a few years, etc.
And the truth is, I really can't wait to get back to work! But that's a good thing, because I still have almost two weeks left to enjoy life without work and focus on my family.
I'm happy that after so many years of working on Nozbe, I can take my mind off the company for six weeks… and if it turns out well, maybe I'll repeat it next year! We'll see about that, but one thing is for sure: taking time off work is necessary, because it allows you to gain perspective and relax. Further, it is a great way to boost your motivation – and that's something even the most passionate entrepreneurs need. What are your thoughts?