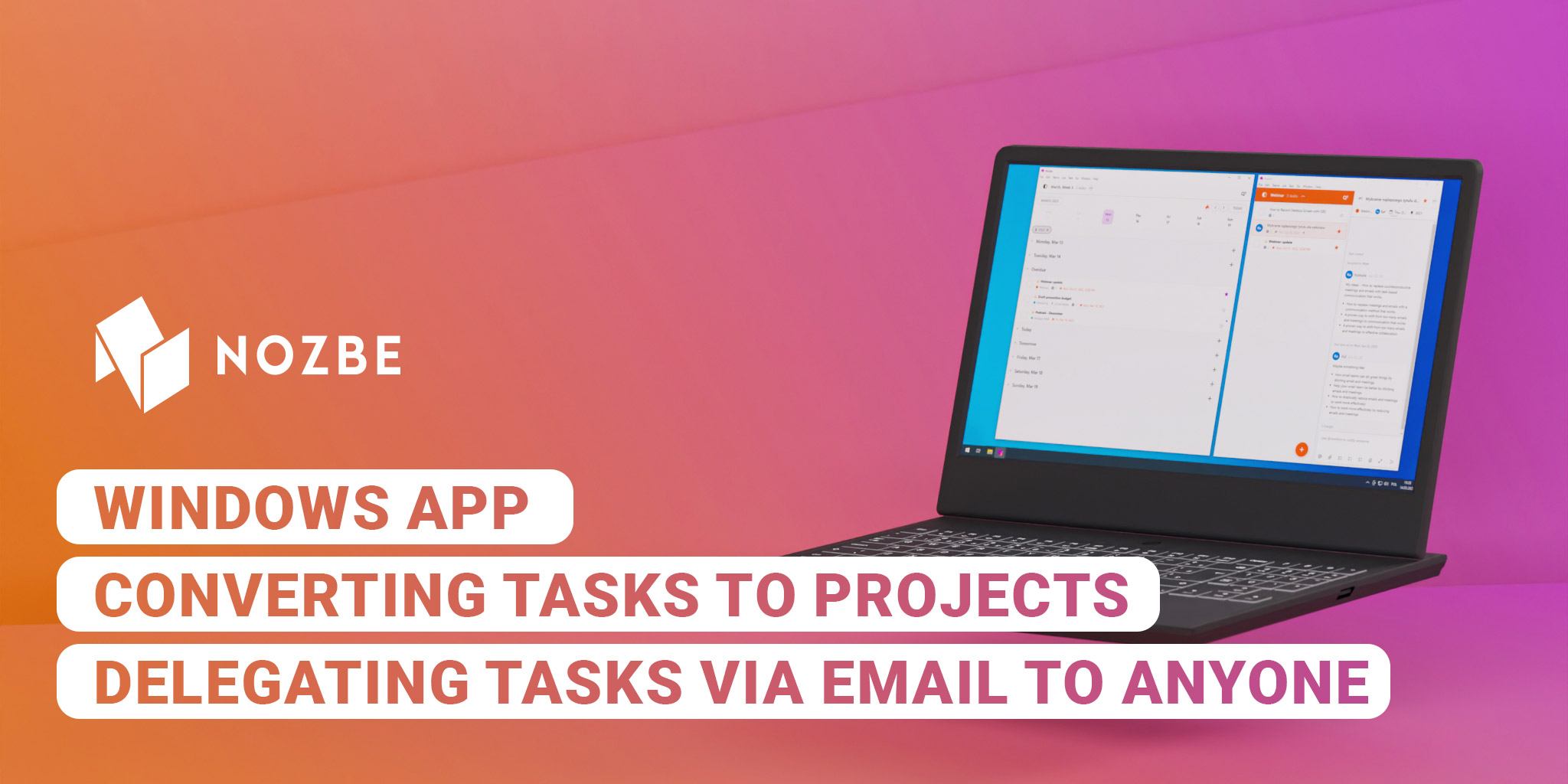 See what you can do to work even more efficiently! Watch our product vlog and see what new features and improvements we offer in Nozbe and how to implement them.
Windows App
You can finally use Nozbe on your Windows PC and download the app straight from Microsoft Store or directly from nozbe.com/download. Remember to set push notifications and use keyboard shortcuts 💪🏼
Work in two or more Nozbe windows
In the Windows and Mac apps, you can open Nozbe in two or more windows and write a comment in one while searching for information or attachments in the other. Much easier work and a huge time saver ⏱
Convert big task and sections into projects
If a task or section becomes too complex and has too many levels or elements, you might want to turn it into a project. It's super easy now: one click and everything gets organized. 👉🏼
See how it works and use it in your Nozbe system.
Images and video files preview + zoom
In Nozbe, you can preview the image file and, if necessary, zoom in to see the details. From now on, you can also play video files in attachments with no need to download them. 👀
Supported video formats depend on the browser - desktop applications support the formats listed in this documentation.
Drag & Drop in the Calendar view
To make it easier to manage your schedule, we've introduced an easy way to move tasks between days in the Calendar view in Nozbe. If you see that on a given day you won't be able to squeeze in anything, but have several time slots the next day - you can drag the task from one day and drop it on another. Simple and fast! 📅
Delegating tasks to anyone via email
This is great news for those for whom working in one tool is essential. You no longer need to write emails to people outside your team in Nozbe. All you have to do is create a task in your favorite system and delegate it to someone from the outside using their e-mail address. They won't need to set up a Nozbe account as they will receive an e-mail notification and will be able to work on the task without having to download the application or register. Wow! 💥
Help button in the app
You don't have to leave the application to get assistance or read about a given feature. In the lower left corner of the app window There is a lifebuoy icon, which is your support hub in Nozbe. 🍩 (no lifebuoy emoji, so have a donut ;))
Watch this vlog
Watch this product vlog episode and see how you can implement Nozbe in your everyday work and to organize your private stuff, too.