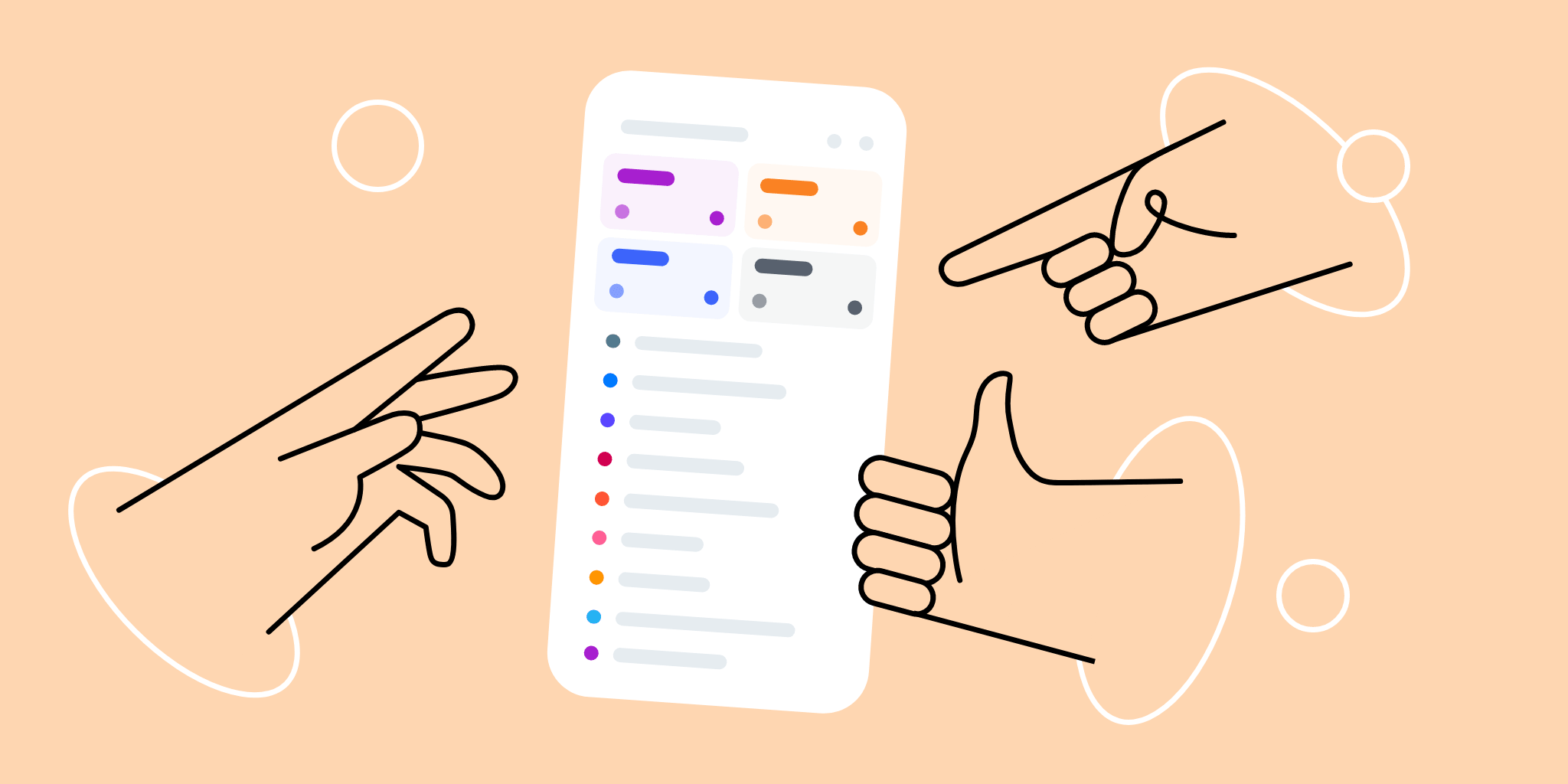 When working in a team, no matter how hard you're trying to push projects forward, the outcome doesn't entirely depend on you. Sometimes it can feel frustrating. There is a way for your teamwork to thrive, though. You need an environment that supports teamwork. A sound communication system and a well-designed collaboration tool will help you reach your goals faster together – no matter whether you work in an office or remotely.
How to communicate effectively in a team
A team is a team – a group of people who think differently and have various habits. If you're a dispersed team, there is one more factor to consider: people work in multiple locations and time zones. To have an efficient team, you need to introduce a set of rules that will govern the team's communication and workflow. It needs to be clear and focus on achieving the team goals in a way that is comfortable and natural for the individuals, too.
Our Pyramid - The Best Method for Team Collaboration
Here at Nozbe, we have the Communication Pyramid that regulates the information flow in our remote team.
It's based on 3 key ideas:
a belief in the power of deep work,
respect for our time, and
a structured information exchange.
You can read more about the Pyramid of Communication here, but to make the long story short:
We try to communicate asynchronously whenever we can in order not to distract each other. If I need feedback that can wait (and, let's be honest – in most cases it can), I let my colleague get back to me in their own time.
We know people work best when they are focused and nobody disturbs them.
Feedback is typically the best when it is thought through and written down.
Meetings (if really necessary) are fruitful only if there's an agenda and all the attendees are involved and well-prepared.
Space for Collaboration
Once you have your communication system in place, you want a space where it can be implemented and developed. What you need, then, is a collaboration app – or a task and project management tool, if you prefer. The objective is the same: to make sure the information you exchange is structured and accessible, and that everyone on the team knows what needs to be done and when.
Below you will find out what collaboration software does for business. As I've been using Nozbe from the very beginning, let me list the advantages of team collaboration tools with my app as an example.
Easy Goal Setting and Planning
Needless to say, to deliver results, a team needs to know what the objectives are – and any objective can be transformed into a project. Every project requires planning. To plan it well, you want to split it into actionable tasks, explain each of them in detail, put it in the time frame, and assign them to people who can do it best. It's obvious and simple. Once you do that, you have an action plan in place.
I know sometimes it doesn't come easy as projects grow, develop, or even pivot; however, in an app like Nozbe, you have everything in one place and neatly structured.
Having Everything Under One Roof
One great benefit of using a collaboration software is the way you record everything connected to a project within this project. There is a special place to describe the project's goal. Then, you have specific tasks and comments where your team can:
discuss the ideas,
ask for feedback and receive it,
point out the problems and hindrances,
look for the best solutions,
attach files, and
add checklists to handle tasks with a few layers.
As you can see, a collaboration app like Nozbe lets you keep all information exchanges, documents, and data in its project context. You can always search for the data you need, go back to a discussion you want to recall, or search for the initial version of a document. It's all there, listed in order of appearance. Even when the project has been completed, you can still search it or even restore it.
Reference Materials and Documents in the Context
Speaking of structured discussion and project context, I want to briefly mention the reference materials necessary to get tasks done. I remember that in a previous job, we used email and chat about our running projects and our team collaboration – oh, how easy it was for things to go missing! It was very frustrating, especially when the deadline was close, and the team's stress level would steadily increase.
If you use a collaboration app, you can easily avoid this kind of situation. Simply agree with your team to attach documents to relevant tasks or add the links to the files stored in a cloud (like Dropbox, Box, Google Drive, etc.), describe these documents, and you will be fine.
Access to Work and Data From Any Place, Anytime
A project management app like Nozbe has another feature that makes your team more productive: mobility. Everything you save in the app – projects, tasks, comments, and attachments – are stored in the cloud. That means you can access all of these no matter where you are. You might choose to use a web app or download native apps for your iOS and Android devices. Notifications set according to your needs will inform you whenever someone needs your feedback or assigns a task to you. This way, you can save your time and work while commuting or waiting for the doctor's appointment and be there for your team even when away from the office.
Effective Task-Based Communication
Once you have your projects and tasks created and structured, you can start collaborating with your team to get them done. The key to effective teamwork is good communication. In an app like Nozbe, there's no better way to collaborate than through task-based communication.
Why?
Because it's clear, organized, and actionable.
By listing down the tasks, you motivate people to action and empower them by splitting big, scary things into smaller, doable steps.
By commenting on a specific task, you focus on what needs to be done right there (unlike group chats or long emails).
Thanks to precise task parameters, you know who's responsible for the task, which project it belongs to, and when it's due.
Communication based on tasks works best in a well-designed task and project management tool for teams where you can add tasks and work within them together until they get done. Because, after all, you want your team to deliver results and not only spend time on the project management, right?
Better Focus
Ditching email and cutting down on using chat for internal communication in your team will increase its productivity. How? By utilizing a collaboration or a project management tool and implementing task-based communication, people will be able to spend more time on focused, intensive work.
If everyone has their tasks listed in the app and put into a time frame, they know what to do and when. They can concentrate and start getting their job done. Everyone works on their own things. If someone needs help or feedback, they ask a colleague or a manager for it. They try not to distract this person, because, while waiting, they can start working on the next task and let their teammate finish what they started.
Of course, this is an ideal situation. I know that urgent things and tasks due yesterday come up in all teams every single day. But if every team member tries to structure their work and remember to keep a time margin when planning their tasks, it can slowly get better and better.
At Nozbe, we call it asynchronous communication, and we try to make it our fundamental rule.
Setting Priorities
As with having a coherent strategy, well-set priorities will also help you stick to the path you need to follow – especially if you outline them based on a holistic view of all the work that needs to be done. Task management apps like Nozbe let you plan your priorities for every day of the week. This way, every morning, you and your teammates start with a to-do list and try to tick off as many things as possible during the day. You decide what makes to your priority list and try to work in blocks of focused work to get it done. This is one of the key steps to team effectiveness.
Transparency and Being Up to Speed
Another advantage of using a good collaboration software is the way it guarantees a better overview and understanding of what everybody else is doing. In shared team projects, everyone can see other people's tasks and check what they are currently struggling with. This way, the cooperation potential can be fully used. People get more insightful feedback, the team shares their knowledge, and anyone can contribute to achieving the company goals.
This process is even easier in Nozbe, where every newly created project is accessible for all the team members by default. Of course, with the Premium plan, you can have private projects or grant access only to selected users, but the key goal is transparency and accessibility. Note that having access to a project doesn't mean less focus. You can take a look at any project when you need, and that's it. If you're especially interested in particular projects, you can follow them or add them to your favorites and get notified of their progress.
Also, in the Nozbe "Team" view, you can see the list of all the people on your team. You can choose one person and check out all the tasks that are assigned to them across all the projects you two have access to. This lets the team members stay on the same page and enables managers to oversee their team projects.
Improved Leadership and Management
So, collaboration software will give a manager or a team leader a real-time overview of how well their employees are performing. They can see everyone's contribution, keep an eye out, and give their feedback on each project whenever they see the need.
With a transparent project structure, a manager will also be able to determine when some projects are stuck. Unlike emails or group chat, where the chances that things will fall through the cracks are pretty high, a good project collaboration app enables managers to stay in control. They can track the information flow, check up on the status, and ensure action is taking place where necessary.
Every team needs direction, especially when they feel lost, and managers need transparency to be in the loop: that's how you avoid project failures.
As a manager or a team leader, you can't ask for a bigger win.
Strengthened Team Relationships
Last but not least, a good collaboration tool is crucial for building team spirit. It can help people become more comfortable with the idea of cooperating towards a common goal. It also encourages sharing plans, ideas, and accomplishments with co-workers.
At Nozbe, we know that our app is a space for asking questions and discussing, and thus we're not afraid to do so. Task-based communication encourages us to share our doubts and knowledge with the rest. Together with our communication rules, it also reduces the chances of conflict and misunderstanding. Everything is noted down and trackable. The written feedback seems to be more rational, thoroughly analyzed, and less emotional than a real-time discussion.
By reinforcing team relationships, collaboration software serves a dual purpose that can benefit the entire business.
You Don't Want to Keep on Struggling
For your team to perform smarter, faster, and more productively, you need to introduce some communication rules and embed collaborative technologies into your company and its organization process. I guarantee that, through this method, your team efficiency will go through the roof – and it will be the cherry on top of the rest of the benefits listed above.
I'm aware of the fact that transitioning to a completely new type of work environment can be tough, especially for team members who have never used project management or collaboration apps. Start slow. Discuss the communication rules you'd like to introduce in your organization. Once you have them in place, choose a tool that will best suit your needs. Start implementing it gradually rather than diving in headfirst. If people get baffled and lost, productivity is only going to fall instead of skyrocket. You might want to create just a couple of projects first and try to collaborate in them. Share your impressions and ask each other questions on how the software works. Also, don't hesitate to contact the app's customer support to get help and practical tips. Watch video tutorials and use the on-boarding materials the good apps usually offer.
If you feel convinced and you're serious about improving your team communication and effectiveness, feel free to try out Nozbe and test out the benefits yourself. It's free and available on iOS, Android, and the web.